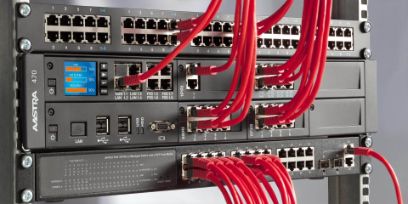 VoIP PBX: an effective way to reduce costs and maximize the productivity of telephone communications.
VoIP PBX.
VOIP PBX MANAGEMENT.
With your IVR (Interactive Voice Response) system you will never miss that important call. IVR identifies which of your company numbers were called on (if you have several DIDs for clients from different countries or regions around the globe) and offers an interactive voice menu in the language most frequently used by the caller. Your customers can directly contact the exact department they need by dialing corresponding extensions. The VoIP PBX is a sophisticated system that needs to be deployed by competent specialists.
Prismatic Technology engineers are true professionals in VoIP PBX Deployment and Management. We provide services to businesses of all sizes and kinds from small companies to large call centers, for which the VoIP PBX is not a luxury, but a business necessity.
We offer our knowledge and skills to support clients in the following areas:
Development of infrastructure and VoIP network, identifying the resources needed to implement your project (the number of clients, VoIP lines, etc.).
Designing a VPN configuration, security policies, and other important issues.
VoIP Infrastructure Management (we deal with problems like service quality, resource use, etc.)
VoIP resources Optimization (troubleshooting, reconfiguration).
Hardware and Software Configuration. We work with Asterisk, OpenSER (Kamailio) / OpenSIPS, Cisco, FreePBX (and derivatives such as trixbox, elastix, and flashpbx).
VoIP resources Redesign/Extension.
Load Balancing Configuration.
Contact us (live chat, helpdesk, phone) and find out what VoIP PBX Set-up and Management options we can offer your business.
How much does VoIP PBX Set-up and Management cost?
We'll give you an approximate cost of our service after you send us an outline of how your telephone network should look like. If you already have a telephone network, just give us a description and we will provide you with a quote. We will estimate the amount of work and get back to you with the approximate time needed for it as well as the hourly rate. Just to give you an idea, the minimum charge for one hour of support is $35.00.
Want to know more about VoIP PBX Deployment and Management?
Contact us today. We'll find a perfect solution for your business.
This year, we have repaired
Tablets
Phones
Computers
Call us to get a free quote now