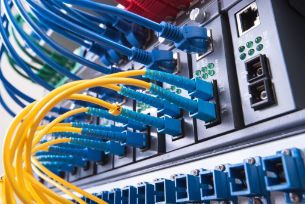 Keeping your business's network running smoothly.
NETWORK MANAGEMENT.
If active network equipment you use such brands as Cisco, Juniper, Alteon, Foundry, HP, Radware and NetScreen, then congratulations, you made the right choice.
Prismatic Technology recommends choosing networking hardware from well-known manufacturers as there is no other way to get high quality, reliable services and security. However, this is not enough. It is essential that you choose the right specialist to offer you competent service. At Prismatic Technology, we do have such specialists on staff. Our team of qualified engineers provides 7/24 network management and technical support.
We deal with problems related to:
Firewall, NAT.
High-availability routers.
Redundant network connectivity.
Network monitoring.
Channels Load balancing.
VLANs.
Bridging and switching
It's nearly impossible to list all that we can do if it comes to network equipment. Contact us and let us know about your problem with the server management, and we'll figure out how to help.
Like all of our services, Network Management includes:
24/7 Management by L1, L2, and L3 Technical Support engineers.
24/7/365 Proactive Monitoring of Network Equipment.
An opportunity to contact us via Helpdesk, Live Support Chat or by phone.
An option to create Critical/Urgent/Normal/Low priority tickets.
Consultations on the issues of the network equipment performance.
How much does Network Management cost?
The price per hour varies from $45.00 to $60.00 depending on the equipment, the scope of our operations or the type of subscription. Send us a description of the problem and we will get back to you with a tailored offer of these services for your company's needs. In our offer we will quote the cost per hour of work and the total duration of work. As usual, performance time is billed in 15-minute increments.
Contact us today to learn more about Prismatic Technology's approach to network management.
This year, we have repaired
Tablets
Phones
Computers
Call us to get a free quote now