Welcome To Prismatic Technology iPhone & Apple Repair Specialists!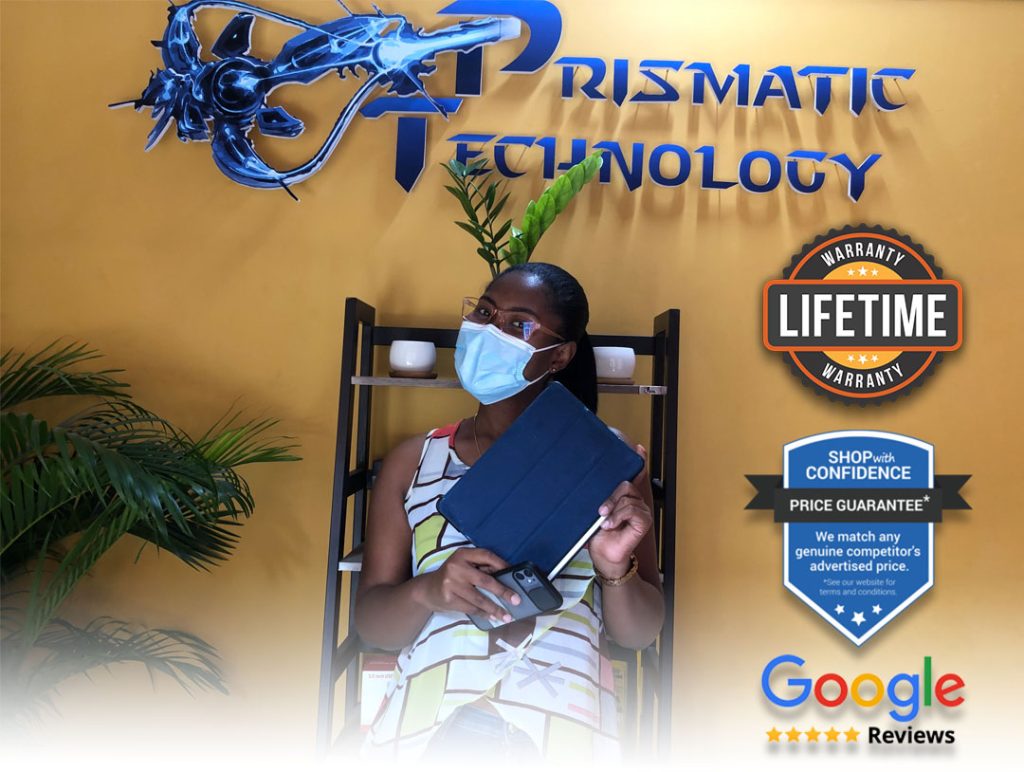 PRICE MATCH GUARANTEE
Getting your device repaired shouldn't break the bank. Our low price guarantee ensures that we always offer the best price to our customers.
SUPERIOR LIFETIME WARRANTY
Prismatic Technology offers a ​superior limited lifetime warranty! In the rare event that you experience an issue with your repaired device, we back all iPhone screen replacements with a lifetime warranty Board level repairs are also covered.
FREE DIAGNOSTIC
​We believe in a transparent repair process, and that starts with clear and upfront pricing. If you're not sure what's wrong with your device, we would be happy to diagnose it for free.
REPAIR IN MINUTES​
​From friendly and informative technicians, to repair tracking, we make repair easy. We know how important your device is to you, so we promise to return it to you as quickly as possible, and keep you informed every step of the way.

Affordable Professional Services with Industry-Leading Lifetime Warranty!
Some Frequently 
Asked Questions
What Is The Turnaround Time?
Routine repairs: connectors, simple backlight jobs, etc. 1 to 7 business days.
None-Routine repairs: depending on complexity and our queue this can take 1-3 days for diagnosis and 7 business days or more to complete the repair.
Data recovery: 6 weeks. (Rush data 2 weeks) Please note: This estimate will take longer if things happen outside of our control (such as a worldwide pandemic that slows down the economy and shipping).
What If My Device Is Not Fixable?
If the device is not repairable, we can send it back to you or recycle it here locally and refund your deposit, minus a $1,000 bench fee for the time we spent attempting to repair it.
How Does Repair Warranty Work?
Warranty: All board-level repair services are guaranteed by our industry-leading lifetime warranty. Our guarantee covers the primary issue (or issues) that we repaired but does not cover the entire device. Accidental liquid, charger, or drop damage after you have received the device is also not covered. If your repair fails within three months and we cannot correct the defect in workmanship, we will refund you the cost of the repair. Beyond the three months, if we cannot correct the defect in the workmanship, we will issue store credit for the cost of the repair. We only send out robust repairs and have a very low rate of warranty problems. If your repair fails during the warranty period we are happy to take a look at it and see what we can do. You pay for return shipping to us and if there is a warranty issue, then we cover return shipping back to you.
A warranty doesn't mean that you will automatically get a refund or a new device if the product or service is defective, Prismatic Technology is entitled to fix the device first. On the other hand, if you reported a defect to Prismatic Technology during the warranty period and the product wasn't fixed properly, Prismatic Technology will correct the problem, even if your warranty expires before the product is fixed. Warranty claims must be reported within the warranty period.
LCD Screen: the limited lifetime warranty covers all manufacturer issues on the screens such as touch sensitivity issues, dead pixels, etc. Any and all physical damage or liquid damage of any capacity on the screen will void the warranty provided.
Screen protectors: or tempered glass are not covered by warranty, if your LCD is being replaced under warranty Prismatic Technology will not replace the screen protector.
What Other Repairs Do We Do?
We love to work on strange stuff, send us a quote request. Anything electronic that would be more expensive to replace than to repair the board, we are open to giving it a try.
Prismatic Technology Location:
Have a Question?
If there is something we have not covered on our site, use the form below to ask something us anything.